Big Summer 500 Euro Giveaway!
It's here for Summer... The BIG SUMMER 500 EURO GIVEAWAY!
Is the song of the week playing right now? Enter below!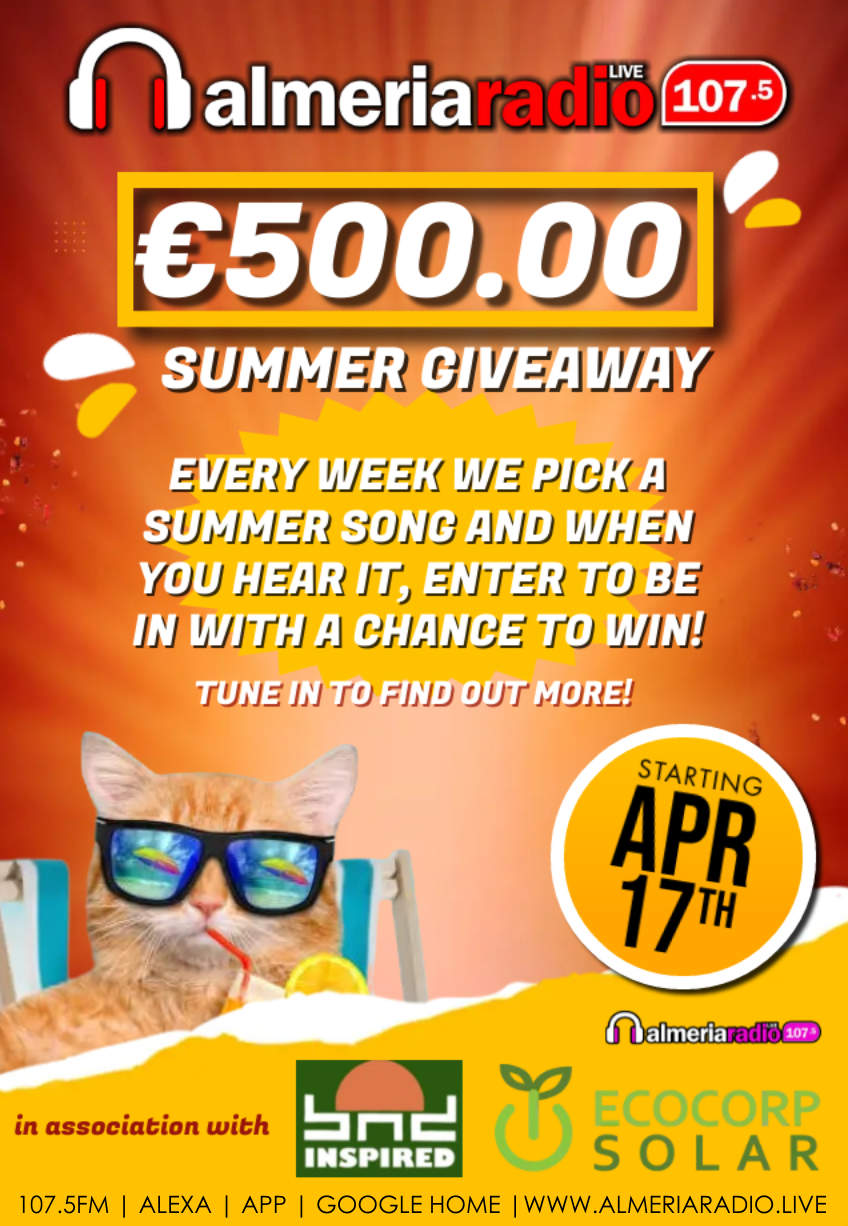 How does it work?
Simply tune in every day!
Terms and Conditions
GDPR & YOUR PRIVACY
You must provide your name, number and country to enter. We also collect your IP address and browser information. If you ask us to remember your information to make entry easier next time, we will store a cookie in your browesr which contains your name, number and country reflecting what was submitted. This information is only used solely for the purpose of this competition. We store this information securely and after the competition closing date, all data will be removed. We do not use the data for any other purpose and do not share your data with any other third party. If you do not consent for the data to be stored for the purpose of the competition, you cannot enter. If you change your mind after submitting an entry and wish for your data to be removed, you may ask us to remove your data but you will forfeit all your right to enter the competition in doing so.
JUST FOR LISTENERS
The competition is only open to public listeners of Almeria Radio. Almeria Radio DJ's, sponsors or advertisers are unfortunately excluded from entering.
COMPETITION TERM
The competition runs from April 17th 2023 until 11th August 2023
ENTERING
The website may appear to accept multiple entries but only the first two submissions per name/number will be counted by the system. If your answer is correct - and the song is playing whilst you enter - your entry will be accepted and be in the draw. Therefore each person can can have a maximum of two successful entries per day.
LOCATION & TAXES
The competition is open to listeners worldwide. Before entering, you must check you are eligible to enter from your country as different regulations may apply. Should you win, it is your responsibility to declare the prize to local tax authorities.
REGULATIONS
This competition is operated from Spain. The competition has an element of skill and is therefore exempt from regulation.
BOT SUBMISSIONS
The server can detect BOT submissions and automated computerised entries. Doing so will invalidate your number from entering and all entries will be removed and future entries will not count.
AT THE END OF THE COMPETITION
A winner will be drawn at random via a live video on YouTube on the 12th August 2023. There will also be a live event which anyone can attend, subject to space and booking in advance. We will contact the winner either by telephone call or SMS. The prize fund will be paid by bank transfer at the exchange rate on 12 August 2023. An alternative cash prize is not available.
Is the song of the week playing right now? Enter below!